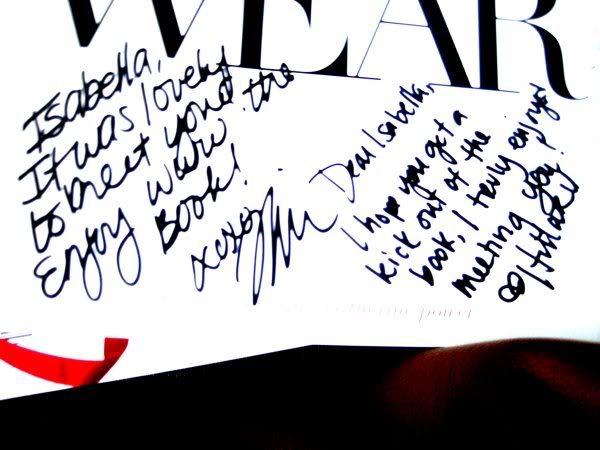 This past Thursday, my friends and I eagerly went to Miami's design district to get my Who What Wear book signed by Hillary Kerr and Katherine Power. Shockingly, we got there and there was almost no one, because the Miami population is mostly about parties and little about fashion. So we walk in nervously and I see them, the two girls that I had admired for almost a year were right in front of me. I was stupidly starstruck but the two girls were so nice that I felt comfortable around them. They asked my name and they tried to make small talk. Then, the highest point of the whole meeting was when the one and only Katherine Power asked to take a picture of us because we were "so darn cute". So she takes a picture of us and puts it on twitter! Overall, the day was great and I even had time to slip in a few interview questions.
Isabella:
Why don't you have a twitter?
Hillary: Well, I've always been the one that doesn't like technology that much. I was one of the last ones to get an email, I don't have a TV and Katherine was the one that convinced me to finally upgrade to a blackberry.
Why did you guys decide to make Who What Wear?
Katherine and Hillary: Well we met at Elle and became friends from there, then we started noticing the large amounts of celebrity gossip sites but the lack of fashion sites. We decided to become the Perez Hilton's of the fashion industry and show day to day fashion looks on celebrities.
What do you want to be for Halloween?
Katherine: Well my boyfriend looks a little like Don Draper from Mad Men so I'm trying to convince him to dress up like him so I can be Betty and have an excuse to buy a cute vintage frock.
Random fact:

Hillary used to be a cheerleader when she was younger.
Us on Katherine Power's twitter page
.